Abbotsford Suppermarket
I went along to the Abbotsford Suppermarket the other night with my wife and daughter.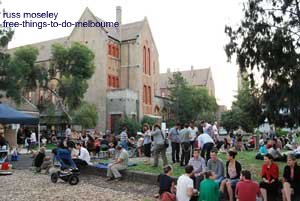 It's one of a few night markets Melbourne has.
I'd read a lot about it and it sounded good fun........
......It was too!
The actual market area is a bit small with a limited number of stalls. At first I was disappointed although what was there was quite good quality.
But the place soon livened up with a really good live band playing and with lots of the locals dancing.
It actually looks more of a place where locals hang out and chat to friends and family than a 'proper' market........
........In fact it's just dawned on me why it's called 'Suppermarket'........
.......there are loads and loads of food stalls.......light-bulb moment!
We somehow managed to miss the juggling, hoola-hooping uni-cyclist which was no mean feat as the market is, as I've said, a little on the small side.....
......We obviously spent too long enjoying listening to the salsa band and watching the dancers.
It's definitely a good place to spend a few hours on a Friday night. Bring a rug to sit on and a few friends.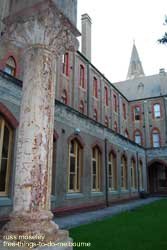 My main advice is to take along your own picnic - the queues at most of the food stalls were enormous.
The entertainment apparently changes regularly with different types of live music and with performers such as story-tellers, clowns, acrobats and magicians all coming along.........
..........There's also free face painting for the kids and a playground area for them.
The grounds are great for walking around and the old Abbotsford convent is an interesting historic building to have a look at too.
Unfortunately the Suppermarket is only on in the summer though. Check out the website at Abbotsford Suppermarket for dates.
It's open 6pm-10pm Friday nights. Address is 1 St Heliers Street, Melbourne.
If you drive here, avoid the car park which charges $4. Park in a nearby street..... You'll find loads of two hour free parking spaces available within 200-300 metres.



Check out the map below to find it.
View Abbotsford Suppermarket in a larger map
---