Melbourne Art
Find free Melbourne art exhibitions, galleries, guided tours, talks, performing arts, museums and much, much more.
Melbourne is crammed chock-a-block with art.....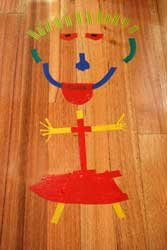 ......National, international, fine art, aborigine art, quirky, contemporary, old masters, creative, traditional, challenging, innovative, historical, whimsical, unique, inspired, performance, experimental, interactive, indoors, outdoors, moving, still, large, small, paintings, drawings, calligraphy, photographs, pottery, sculptures, textiles, galleries, exhibitions....
........It's not known as Australia's arts and culture capital for nothing!......
....Whatever your artistic interest, you'll find a lot of free things to see and do here in this Melbourne Art page.......
...........You'll also find that quite a number of the galleries provide free guided tours (also highlighted in the Guided Tours section).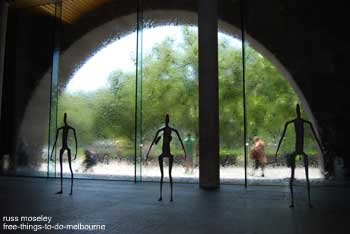 Click on the attractions below to find out more about them.
---
National Gallery of Victoria (NGV)
The NGV is divided into two sections - The NVG International and the Ian Potter Centre:NGV Australia.......
.......The free galleries in these buildings contain over 65,000 works of art within 51 galleries. Ready for it?!
Australian Centre for the Moving Image
A permanent exhibition with lots of interactive video games for the kids (or yourself!) and films to watch.
Yarra River Artwalk
A lovely walk by the Yarra river looking at outside art exhibits.
Australian Centre for Contemporary Art
A leading contemporary art gallery.
Ian Potter Museum of Art (University of Melbourne)
Considered one of the leading art museums in the country.
The Arts Centre
Some free exhibitions and activities for kids in this iconic landmark.
Poetry
Just listen or you can also read your own poems.
City Gallery, Melbourne Town Hall
A small but interesting gallery.
The Travellers
A moving artwork over the Yarra River.
Docklands Art
A self-guided tour through Docklands looking at 36 outdoor artworks.
Kirra Galleries
You'll find an array of unique glass creations here.
Aborigine Art
An aboriginal designed artwork by the Yarra River.
Linden New Art
If you're in St Kilda, check out this gorgeous looking art gallery.
RMIT Gallery
A vibrant University owned gallery featuring regularly changing exhibitions of Australian and international design, including fashion, architecture, fine art, craft and technology.
---
Return from Melbourne Art to Free-Things-To-Do-Melbourne Homepage