Melbourne Outdoors
Here are some great free things to do in Melbourne outdoors.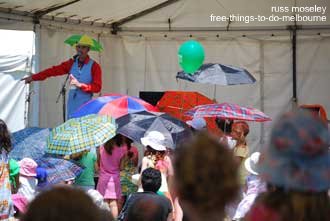 Why not check the weather forecast first so you can decide whether it's a good idea to be looking at these outdoor things to do!........
.......If rain is forecast, check out the Rainy Day Things section.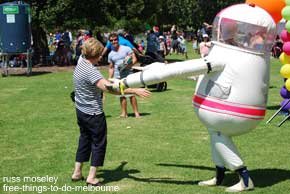 Even better idea, take notes of both Sunny Day Things and Rainy Day Things.......
......then you'll be prepared whatever the weather as my experience is that the forecasters are usually wrong!
If you ever get stuck for something to do, just head to Federation Square......
......there's almost always something happening there - inside and out.
---
Federation Square - The heart of the city, always beating.
Summer by the Sea - 300 free events by the sea in 80 locations. It'll set your pulse racing.
Tai Chi - Join a class and lower your blood pressure.
Polly Woodside - Ahoy, me hearties!
Flinders Street Railway Station - The main artery to the city.
Hotel Sofitel - Test your nerve at this 35th floor toilet!
Penguins at St Kilda - Your heart will skip a beat watching these adorable creatures.
Tan Track - A jogging track for the energetic - guaranteed to get your heart pumping.
Laughter Club - This may tickle your funny bone!
Government House - A historic seat of government, a beautiful building inside and out.
Black Rock House - Head to this beachside suburb and get a free tour round this unusual fortified historic house.
St Kilda Adventure Playground - My favourite playground - even YOU won't want to go home!!
Cool Day Trip - Have a fantastic free day out by the seaside. There's loads of great things to do and see here.
Discover Sailing Day - Get a free sailing trip, choose from a small dinghy or big yacht (keelboat).
Brighton Beach - Have a look at the famous beach boxes at this lovely beach-side suburb.
Cycling Melbourne - Breathe in the fresh air on these great trips alongside rivers, beaches and through parks. Take a picnic and the family!
Federation Square Tour - Take a proper look around this iconic Melbourne location.
Alma Doepel Tall Ship - Give a helping hand to renovate this famous tall ship.
CERES - Learn environmental sustainability things at this award winning urban farm and education centre. There's even a playground for the kids while you drink a cuppa.
Plant Craft Cottage - Learn how to make gorgeous crafts from natural materials at this heritage listed cottage.
Street Art - Take a look at the street art on the number 86 tram route.
---
Return from Sunny Day Things to Free-Things-To-Do-Melbourne Homepage