Melbourne Walks
Go on some Melbourne walks and find out what a great city it is for walking and sightseeing. It's got everything you need.....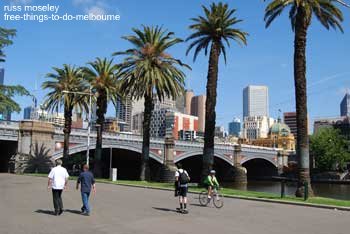 ......a fairly flat landscape, beautiful parks with a lot of interesting things to see in them, riverside strolls, small pedestrianised laneways, delicate Victorian arcades, grand government buildings, great window shopping, picturesque churches, modern contemporary architecture, lots of statues and art exhibits, a harbour and loads more.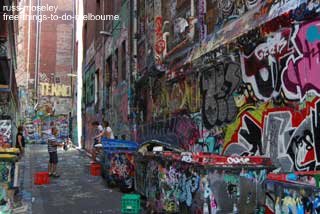 Stumble across the unexpected.....it's a lot more fun than a regular tour......
....... and most importantly it's a pretty safe place to go walking - I've never felt threatened here.
Forget the rush and hassle of a paid tour where you can't hear the guide properly anyway!.....
.....Walk Melbourne and discover what it's really like by exploring at your own relaxed pace.
I've found all sorts of walks for you to do....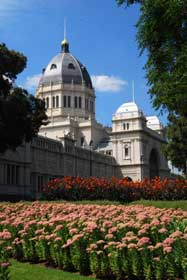 .......Official City approved Melbourne walks with route maps and information about the sights you'll pass....
......You can download the details from your computer and take them with you. It's got some great Melbourne sightseeing locations....
......free guided walks in some of the parks and gardens......
.....how to download details of an hours walk around the very scenic and historic University of Melbourne campus.......
....and a number of other fabulous routes.


Click on which of the Melbourne walks listed below attract your attention.
---
City of Melbourne Self-Guided Walks
Seven fabulous walks designed by the City of Melbourne.
Melbourne University Campus
Delightful walk among historic buildings in a leafy, shady location - great walk for those hot days.
Golden Mile Heritage Trail
A walk past many of Melbourne's best buildings.
Fitzroy Gardens Walk
A free guided walk in one of the best Melbourne Gardens.
Carlton Gardens Walk
See the spectacular Royal Exhibition Building and 34 other points of interest.
Yarra River Walk
An interesting walk with a podcast along the Yarra River - lots of original information.
Docklands Art
A self-guided tour of 36 outdoor artworks in Docklands.
St Kilda Tour
A self-guided walk through old St Kilda looking at architecture and history. Walk created by Heritage Victoria.
Design and Innovation Walking Tour
A walk past 23 marvelous Melbourne buildings, many of them of unique contemporary design.
Yarra River Artwalk
A lovely walk by the Yarra River looking at 23 outside art exhibits and 12 buildings relating to the arts.
Kokoda Track Memorial Walk
Also known as the Thousand Steps, this track is located in the gorgeous Dandenong Ranges.
Yarra River Sports Walk
As the name suggests, this is a walk along and close to the Yarra River going past various sporting venues, historic and modern.
Albert Park Lake Walk
One of the easiest and nicest walks in Melbourne if you like nature.
Walking Maps
There's lots of walks in and around Melbourne on this page.
Melbourne Greeter Orientation/Tour
A free two to four hour tour around Melbourne city centre tourist attractions with City of Melbourne volunteer guides. This is a don't miss!!
---
Return from Melbourne Walks to Free-Things-To-Do-Melbourne Homepage