Travel Melbourne
This Travel Melbourne page is probably the most important one on the website as it'll allow you to make your way around quickly and efficiently as long as you do your homework beforehand!
Melbourne's one of the few cities I've been to that has such extensive free transport........
.........Its fantastic here - you can get to most of the attractions mentioned on this website easily and for free.........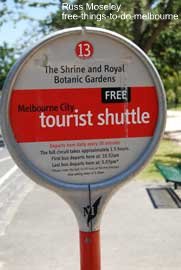 ..........There's the free iconic tourist tram service which travels around the Central Business District (CBD) and Docklands.........
........and since 1st January 2015 all other trams within the Central Business District (CBD) and Docklands area are free too!!!.
On top of this, children under 10 can get free travel on a fantastic tourist bus service which extends out a bit further. (This was free for everyone until recently but it's $10 each for over 10's and adults now but that's still a bargain as your ticket lasts two days with unlimited travel)........
.......Using these services you'll be able to easily reach over 95% of the attractions listed on this website. These are great services which both locals and tourists can travel Melbourne on.
Have a look through the website, make a list of your top places to visit and the best time to visit the attractions (such as when the free guided tours are taking place), check out where they are in relation to the free tram and bus networks and Bob's your Uncle!........
.....Do they use that saying in Australia by the way? If not, it means 'She'll be right, mate'!
---

Free Hop on, Hop off City Circle Tourist Tram
This fantastic historic tram runs around Melbourne's city centre allowing you to hop on and off when you want......
......This tram route is known as the City Circle.
There are 29 tram stops which is plenty to reach all the city centre Melbourne tourist attractions easily.
Not only is it free, but you'll also learn a bit about the places of interest the tram passes from the on-board commentary......
......You can also pick up a free map and city guide on board......
......Trams run in both directions every 12 minutes or so between about 9.30am and 9pm Monday to Saturday and 9.30am to 6pm Sundays except Good Friday and Christmas Day.
The tram has steps as it's the old fashioned type so it can make travelling with a pram a little complicated. I managed it however so you can too - (only take a pram if you do have kids though!).
The trams are so frequent there's not really much need for a timetable but if you'd like one click City Circle Tram Route/Timetable. You can also print off a copy of the route map from this site.
---

Hop on, Hop off City Visitor Shuttle Bus
This free for kids under 10 Visitor Shuttle bus service covers a larger area than the tram route allowing you to easily get to the attractions that are a bit further out of the city centre.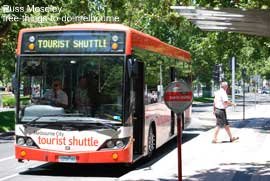 There are 13 bus stops with most of the free places to visit within just a short walk of the stops.
You can catch the bus every day except Good Friday and Christmas Day although there's reduced service on Labour Day and Anzac Day.
They run every half hour starting from 9.30am until 4.30pm with the last bus from Stop 1 leaving at 3.45pm. The last bus finishes back at Stop 1 at 4.30pm.
The complete trip takes an hour and a half and you get a very informative commentary......
......It's a good idea to just sit through a complete trip once to get a good look at the city as the tram is often so full you can't get a good view.
You can pick up a route map on board or click Visitor Shuttle Bus details and print one off before you go.
---

UPDATE: You can now also travel Melbourne for free on all city centre area trams too!!! - check out this map to see where the boundaries are........
.........The tram drivers will make announcements when trams are approaching the boundaries of the Free Tram Zone so you'll easily know when you have to get off so you don't get a fine.



---
Return from Travel Melbourne to Free-Things-To-Do-Melbourne Homepage