Albert Park
Albert Park is a great place to spend a sunny afternoon in Melbourne.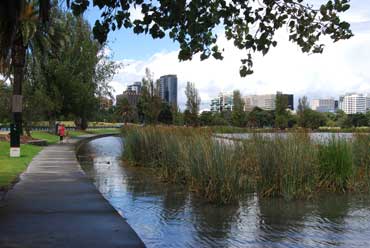 I first discovered its existence when taking sailing lessons at one of the sailing schools on the lake.
There's a five kilometre walk round the lake, great for watching all the bird life and sailors..........
..........It's particularly fun watching the beginners topple their boats over into the water – been there, done that myself!!
Near the other end of the lake you'll find a large ancient River Red Gum Tree...........
..........This is said to have been the site of many Aboriginal corroborees (these are dance festivals held at night to celebrate important events).........
..........This tree is thought to be over 300 years old, the oldest remnant tree in the Port Phillip area..........
.........It's near the Junction Oval on the corner of Fitzroy Street and Queens Road, St Kilda apparently but I haven't actually got round to seeing it for myself yet.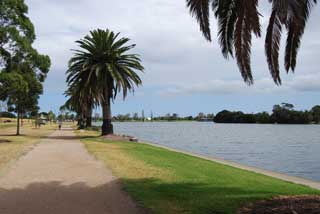 If you're into serious exercise you'll probably also like the exercise stations dotted round the lake like the Bench Curl station you can see in the photo below.
These are not actually something I'm too interested in these days(!!) but at least it's free exercise and you don't have to pay a Bootcamp person (isn't that what they're called?) to get you fit.


---

PLAYGROUNDS
You'll also find a number of playgrounds round the park for the kids if you want an excuse not to walk the full five kilometres!


---

AUSTRALIAN GRAND PRIX
Every year the park is turned into a racetrack for the Australian Grand Prix, much to the horror of local residents!
My parents got an unexpected tour of the Melbourne Grand Prix racetrack one year........
.........I had bought them each a Harley Davidson motorbike ride as pillion passengers for a trip round Melbourne...........
.........It was just after the race had finished and the Harley Davidson drivers rode them round the racetrack...........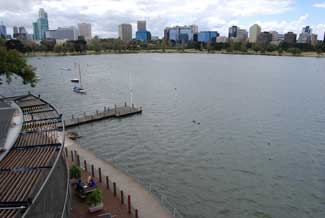 ..........My parents loved it, only problem was my mum had a bad hip and couldn't get off the bike at the end so she asked the driver to get off first but he couldn't move either as he had a bad hip too!!............
..........So much for his mean tough image!!
Find where Albert Park Lake is on the map below:

View Albert Park in a larger map
---
Return from Albert Park to Melbourne Walks
Return from Albert Park to Free-Things-To-Do-Melbourne Homepage.