Artplay
Artplay is located in the only remaining building of Melbourne's old rail yards, behind Federation Square by the Yarra River at Birrarung Marr.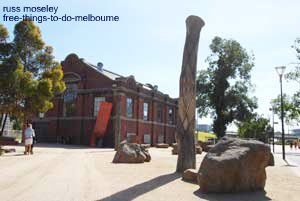 It's a children's art centre, copying an idea first started in Dublin, Ireland.
There are loads of events here for kids but only some of them are free.......
......We went along a few days ago. There were two free kids activities......
........One was called Colour with brightly coloured items to play with........
........The other event was called Tape It! and involved sticking coloured sticky tape anywhere you wanted making patterns, shapes and drawings.......
.......Even the adults were encouraged to take part.....


......My daughter loved it and so did I!
Then, when we finished there was the bonus of the playground next to the building.
It's one of the better playgrounds I've seen here in Melbourne......
.......slides, swings, big sandpit, swinging hammock, climbing ropes, large rocks to climb and lots more......
......All the equipment is in great condition.
You need to download their website in advance ( click here ) so you can find out when the free events are.
View Artplay, Birrarung Marr in a larger map
There's other things to do and see round here too - click Birrarung Marr.
---