Australian Centre for the
Moving Image
You could easily spend a day with the family here at the Australian Centre for the Moving Image looking at their superb free attractions.
First they have a room called the Australian Mediatheque.......
........Here you can watch thousands of hours of footage from the last century of film and television.
There are 12 viewing booths with large LCD screens, comfy headphones and soft seats........
........You can choose what you want to see but there's a big range of preselected material which would take months to see anyway.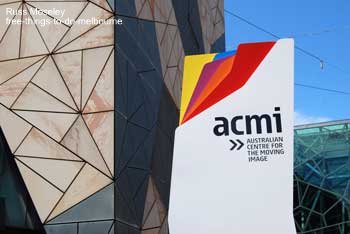 I chose footage of Melbourne from the 1890's, 1935 and 1958. It's certainly changed a bit in Melbourne since then!
The second free attraction is harder to describe.......
.......Called Screen Worlds, it's a cross between a museum (about how the moving image has developed from the first films to social media) and a computer games room with a lot of interactive multi-media for you and your kids to play.......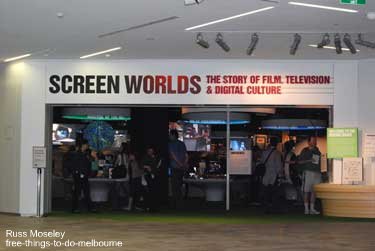 ........It's great fun.
You can get a 30 minute orientation tour of Screen Worlds........
.........This would probably be a good idea as it's an enormous exhibition and I didn't know where to start when I was there. I didn't find out about the tour till after I had left!!
Keep an eye out for the monthly program booklet, (its easier to see what's free than looking through the website).......
.........You'll find they do regular free films for all age groups and hold some free interactive workshops for the kids too.
If you have some serious free time on your hands or some kids to entertain then the Australian Centre for the Moving Image (ACMI) is the place for you!
Click on ACMI to go to their website.

The ACMI is located in Federation Square and it's open from 10am - 6pm daily.
See where it is on the map below.
View Australian Centre for the Moving Image in a larger map
---
Return from ACMI to Melbourne Art
Return from ACMI to Rainy Day Things
Return from ACMI to Kids Activities
Return from ACMI to Free-Things-To-Do-Melbourne Homepage