Australian Gardens
Don't miss the wonderful Australian Gardens, also known as the Royal Botanic Gardens Cranbourne..........
.........I went along not expecting much other than a deserty looking place with sand, rocks and a few plants spaced out but couldn't have been more wrong – its great!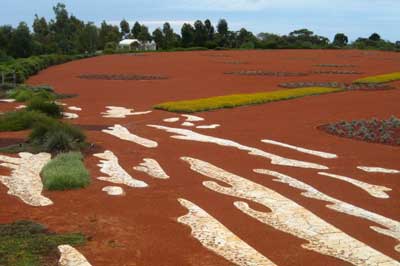 There's loads to see and do here and recently it became funded by the Government so it's now free too.
We hadn't been along before as the entry price had seemed very expensive but actually it would have been reasonable value for what they have..........

..........But free?.........
..........Exceptional value!..........
...........I'll be there quite often now and they'll make some money from the hot chocolates I buy at the very good cafe!
There are lots of different types of gardens to explore and a rockpool waterway area which is great to paddle in on a hot day.........
........Take off your shoes first though – I didn't and there're not looking too good now!
They also have a kids activity sheet which was ideal for my 5 year old.........
.........it makes you look at things a lot more thoroughly too.
We weren't allowed on the bushland track as it was a high firerisk day but this walking/cycling area looks great too with 10 kilometres of walking tracks and 4 kilometres of cycling tracks exploring the vegetation that once covered most of the Port Phillip Bay/Westernport regions..........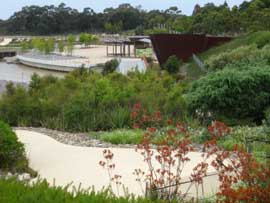 ........There are also picnic tables and free gas barbecue areas available and there's a lookout tower with 360 degree views across South-Eastern Victoria. We'll be back soon!


You'll find the Australian Gardens at 1000 Ballarto Road Cranbourne VIC 3977 just off the M420 (known as the South Gippsland Highway) south of Cranbourne on the road towards Tooradin/Phillip Island.........
..........The turn-off is located approximately 500m past the Cranbourne Racecourse on the right hand side when heading south - you'll see the signs. This trip will take approximately 50 minutes from the Melbourne CBD. They're open 9am-5pm everyday except Christmas day.
Check the location on the map below:
View Australian Garden in a larger map
---
Return from Australian Gardens to Parks and Gardens
Return to Free Things To Do Melbourne Homepage