Caribbean Gardens Market
I've just got back from a trip to the Caribbean Gardens Market and thought I must tell you about it immediately!!
There's lots of free things to do here if you pick the right days and times...........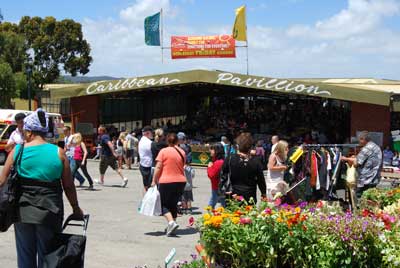 .........It's free to enter on Wednesdays and Fridays and the train, jungle boat cruise and chairlift are free on Fridays between 9am-11am in School holidays (and till 27th January 2012).........
........Rides are normally $4 a person for the train and boat and $8 for the chairlift ($4 each way) so that's a great saving and the rides are really fun..........
..........Children under 3 are always free by the way.
There's also free face painting in the school holidays between 10 o'clock and 12 noon in the café and on the first Friday of every month from 10.30 till 12.30 in the market where they have a monthly Babes to Kids market.
The last time we went to the Caribbean Gardens Market, about 6 months after arriving in Melbourne, we didn't even get into the market stall area there was so much to do outside..........
.........This time we got in the market but didn't give ourselves enough time to do all the other things we wanted to do outside like the jungle boat ride and a walk by the lake........
.........so make sure you arrive early!!
The market is really cheap too if you do decide to make it a non-free day..........
.........I bought a second hand computer for only $130 which seems good value as it works ok so far!!.........
........And I wish I'd been here before Christmas as prices for lots of the other things they sell looked really low..........
.........The market has all sorts of stuff from vegetables and flowers to magic tricks, goldfish, clothes, computers, artwork, souvenirs and much more.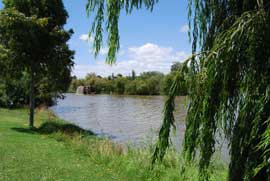 Outside there are playgrounds, picnic and barbecue areas, a Japanese garden, a couple of bird avaries..........
.........a water fountain which kept my daughter occupied for ages on our first trip here, some lovely areas to walk around the lake (there's apparently 100 acres of landscaped gardens), fishing........
........as well as kids activities that you need to pay for such as small jeeps to drive, a bouncy castle and bungee trampolining.
Note though that the train, boat-rides and chairlift operate every Sunday but only operate on Wednesdays and Fridays during the school holidays and until 27th January 2012.



The address is 1280 Ferntree Gully Road, Scoresby, Victoria, 3179. See the map below:
View Caribbean Gardens Market in a larger map
---
Return from Caribbean Gardens Market to Melbourne Markets
Return to Free-Things-To-Do-Melbourne Homepage