CERES
I visited CERES a couple of weeks ago but haven't had time until now to write up about it!.........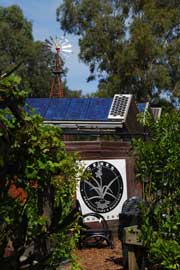 .........The official name is the Centre for Education and Research in Environmental Strategies which is a bit of a mouthful so no wonder it's more widely known as CERES!
It's an award winning, not-for-profit, environment and education centre and urban farm located on 4.5 hectares by the Merri Creek in East Brunswick, Melbourne.
I'm not so happy about it's location beneath the Transmission Lines but otherwise it looks a pretty good place to visit to learn about sustainability.

There are lots of workshops to learn at but these cost money..........
.........It looks like you can pick up quite a few tips just wandering around and reading information but there are lots of volunteers too.........
..........so join up and give them a hand and learn some sustainable practices at the same time.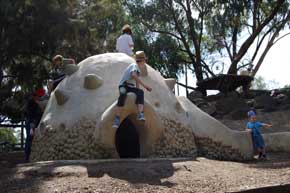 It's a big place.........
........You'll find green technology displays, a Permaculture Nursery, energy efficiencies, renewables and water conservation in action.........
........and an organic market twice weekly on Wednesdays and Saturdays 9am till 2pm..........
........And although it's not free, there's a really nice café too with a big childrens play area next to it which IS free! This cafe was really popular.
CERES is located by the Merri Creek.........
..........I've read this is a nice route to walk/cycle but I haven't actually got around to doing this myself yet.
Their website is www.ceres.org.au.
If you're not coming along by way of the creek track, you'll find it at the corners of Roberts Street and Stewart Street in East Brunswick.  See the map below.
View CERES in a larger map
---
Return to Free Things To Do Melbourne Homepage