City of Melbourne Self-Guided Walks
There's no need to pay for a guide to show you round Melbourne..........
..........not when the City of Melbourne self-guided walks booklets can be found for free.
They've put together eight really good self-guided walks showcasing Melbourne's fabulous sights (see details below).
Walks numbers 1 to 7 start and finish at Federation Square - what could be easier?!
Just pop into the Melbourne Visitor Centre at Federation Square and pick up the booklets or download them from your computer - just CLICK HERE to find them.........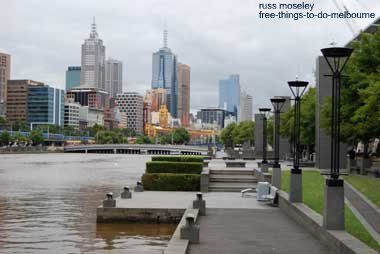 .........Victoria Miller from the USA kindly let me know about these downloadable brochures - please let me know if YOU find anything I haven't mentioned in this website that you think will be useful to others.
These booklets contain everything you need except your hat, sunscreen and water!.......
...... They have maps, routes and information about the attractions you'll pass on the walk.
I haven't actually done the walks as laid out in the booklets but have seen at least 80% of the sights from my own travels around Melbourne over the last two and a half years.....
....... I'll be making a list shortly of the places they recommend that I haven't come across yet - no doubt there'll be some hidden gems among them still waiting to be found.



---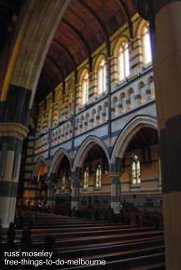 Walk 1 - A Walk in the Park
A 2 hour 3.75 kilometre walk through lush parklands, delightful lanes and looking in magnificent cathedrals.
Walk 2 - Secret Gardens
A 2.5 hour 6 kilometre walk passing sculptures, monuments and walking through the beautiful Royal Botanic Gardens as well as Queen Victoria Gardens and Kings Domain.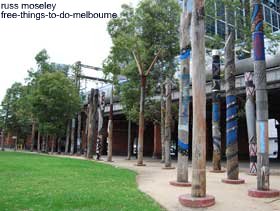 Walk 3 - On the Waterfront
A 2 hour 4.75 kilometre walk on the Yarra River waterfront passing spectacular bridges, Indigenous history, sculptures and promenades.
Walk 4 - Lanes and Arcades
A 1.5 hour 2.5 kilometre walk concentrating on lanes, alleyways, little streets, arcades, cafe society and fascinating shops.
Walk 5 - The Cosmopolitan
A 2 hour 3.75 kilometre walk passing magnificent buildings, city laneways, Chinatown, the 'Paris' end of Collins Street, statues, arcades and more.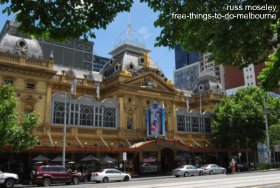 Walk 6 - Sports and Entertainment
A 2 hour 4.75 kilometre walk along the banks of the Yarra River passing the location of the 1956 Olympics, through the fabulous Royal Botanic Gardens and back past the rowing boatsheds.
Walk 7 - Elegant Enclave
A 1.5 hour 3 kilometre walk through East Melbourne discovering elborate ironwork, classic columns and lofty verandas from the Victorian era.
Walk 8 - Melbourne Convention and Exhibition Centre to Federation Square
A 45 minute 2 kilometre walk mainly along the built-up area on the banks of the River Yarra in the centre of Melbourne, taking in a bit of the Docklands and finishing at Federation Square.
---