Crown Casino
The Crown Casino (more officially known as the Crown Entertainment Complex) is, surprisingly, a nice place to wander round, particularly with young children.
It's so much more than a casino - hence the name Crown Entertainment Complex I suppose!!........
.........In fact I've been there quite a few times and not even noticed the entrance to the casino part yet!
There's often a very pleasant music and light show in the main Atrium section with different shapes like jellyfish and sharks moving around on the walls while the crystal ceiling is a mass of lights.
It's especially worth a visit at Christmas when a big show is put on around a Christmas tree.........
.........with roundabouts, puppets and other Christmassy items on display, with a light show too.
They apparently also have a big show here for Chinese New Year but I haven't seen that yet.
If you're around after dusk, you can also see the fireballs blasting off from the large towers running along by the Yarra River.........
........These go off every hour after dusk till midnight or 1am, weather permitting.........
........It's certainly interesting being alongside them when they go off unexpectedly!!
Inside you can do a load of window shopping - but things do look a bit expensive to be buying anything here!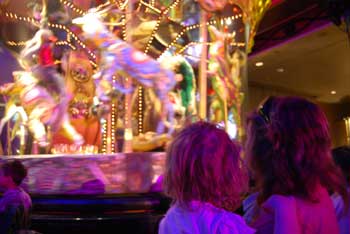 It's also nice and cool inside so it's a great place to visit on a hot day, as well as a rainy day.
There's also some good water fountains for the children to play in outside on the Yarra Promenade although at the time of writing these are closed due to some building works going on.
The official address is 8 Whiteman Street, Southbank but access is available from the riverside. It's more-or-less located on the opposite side of the river to Melbourne Aquarium.
View Crown Casino in a larger map
---
Return from Crown Casino to Kids Activities
Return from Casino to Rainy Day Things
Return to Free-Things-To-Do-Melbourne Homepage