Docklands Art
Have a look at the Docklands Art.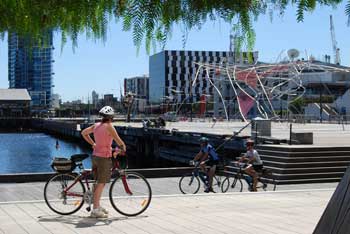 Docklands is the new kid on the block in Melbourne terms.
It's only a fairly short walk (or a free tram ride away) from Melbourne CBD but it's full of mostly new buildings.
It used to be the old docks and was a wasteland for a long time but now it's starting to boom.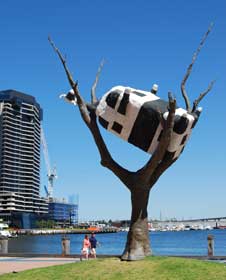 There are lots of interesting buildings architecturally, there's the harbour areas to look at, shops, a Sunday market, loads of events happening regularly - many of them free - and it'll soon be home again to the Southern Star Observation Wheel.......
........And now they've also put a map together to lead you to 36 outdoor artworks dotted around Docklands.

You can download the map from the Docklands website. Click onto the Public Art and Heritage Sites page, then click Public Art and then the Docklands Public Art Walk........
.........You also get info on what the artworks are and/or represent which is something I always find useful!
The "Cow stuck up a Tree" doesn't seem so odd these days though after all the recent Australian floods.
I haven't done the whole route in one go but seen things in stages when I've been at different parts of Docklands so I'm not sure how long the whole walk takes but I'd guess a couple of hours will do it.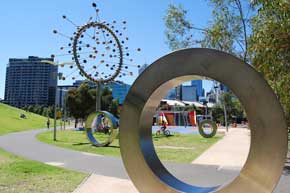 If you start at number 36 or 35 and work backwards, you'll find a great little place where you can get a free cup of tea or coffee and a comfy seat at the end of the walk.....
......It's the Docklands Tourism Lounge, near number's 1 and 2 on the Art map and Stop 9 on the Visitor Shuttle Bus map.
---
Return from Docklands Art to Melbourne Art
Return from Docklands Art to Melbourne Walks
Return from Dockland Art to Free-Things-To-Do-Melbourne Homepage