Immigration Museum
The Immigration Museum is an interesting place to visit. It's not really for children though in my opinion, it's pretty adult or teenage orientated.
There's a lot of good information here.......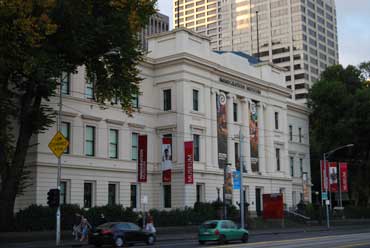 .......Stories from early immigrants, mock-ups of early ships to the colony, reasons people left their former countries, how immigration policies have changed over the decades, information about the Museum building which was originally the old Customs House........
..........and lots more. There are a few interactive displays too.
There's a lovely big room showing how the museum would have looked in it's early years as the Customs House, with large columns and patterned tile flooring.
There's also an Immigration Discovery Centre where you can get help with starting a family history search.
The back garden is quite impressive too with it's Tribute Garden. This has the names of 7000 immigrants from over 90 countries from the 1800's to the present day........
...........I'm not sure how they came to choose the names though as there have been over 9 million immigrants to Australia - maybe you can ask?!
There's also the opportunity to share your story with the Immigration Museum by adding it to the Museum's Share a Story database.
You'll often find temporary exhibitions here too. These exhibitions are not necessarily related to immigration.
This museum is free to concession card holders and children up to 16 years. It's located at 400 Flinders Street, Melbourne and is open between 10am -5pm.
Check out where it is on the map below.
View Immigration Museum in a larger map
---
Return to Concession Card Holders
Return to Free-Things-To-Do-Melbourne Homepage