Jewish Holocaust Centre
The Jewish Holocaust Centre is obviously not a cheery subject like almost everything else on this website..........
..........but it nevertheless has a very important story to tell.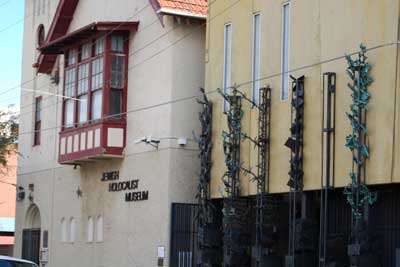 The story of the Holocaust is one everybody will probably know..........
.........but as Australia is obviously rather isolated from Europe the details this centre provides about this atrocity is important.
For those that don't know, it wasn't only Jews that were murdered by the Nazis between 1933 and 1945 but other people too..........
..........including gypsies, homosexuals, Jehovah's Witnesses and handicapped people..........
.........In total over 6 million people were murdered.
The Centre is designed to be an educational program which aims to combat anti-semitism, racism and prejudice in the community and foster understanding between people.
My own tuppenceworth about this moralistic stand (which may annoy some people) is that Jewish people in Israel could also learn a thing or two about fostering understanding between peoples.........
.........I've been to Israel a couple of times by the way and worked on a kibbutz when I was 21 so I know a little about the subject.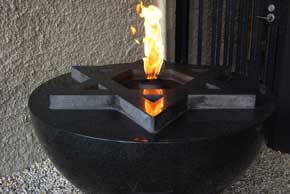 The Holocaust Centre here in Melbourne was created in 1984 by Holocaust survivors in memory of family and friends who were murdered.
The majority of people working here are volunteers.
A visit to the museum includes a personalised tour guide according to a leaflet I picked up when leaving the centre..........
.........but you probably need to book this in advance as I was just shown into the museum without mention of any tour. Call (03) 9528 1985.
The centre arranges education programs for any group that would like them such as schools, universities, community groups and businesses..........
.........They have a collection of over 1200 testimonies from survivors as well as more than 8000 artefacts relating to the Holocaust in their archives.
You'll find the Centre at 15 Selwyn Street, Elsternwick VIC 3185. It's a very short walk from Elsternwick railway station. Check out the map below:
View Jewish Holocaust Centre in a larger map
The Centre is open 10am – 4pm Mon-Thur, 10am – 2pm Friday and 12noon-4pm Sundays but is closed on Saturdays, Jewish Holy days and some public holidays.
The Centre does accept donations by the way.
Check out Jewish Holocaust Museum for any further details.
---
Return from Jewish Holocaust Centre to Rainy Day Things
Return to Free Things To Do Melbourne Homepage.