Melbourne Japanese Summer Festival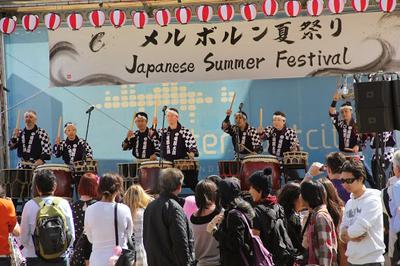 The popular Melbourne Japanese Summer Festival is shaping up to be the biggest ever staged at its new home of Federation Square.

The festival will run between 1PM and 5PM on Sunday, 2nd February 2014. Opening up the delights of Japan, this vibrant, action-packed afternoon is filled with traditional and contemporary Japanese culture, food, activities and entertainment.

"The Japanese Festival is a great event in the City of Melbourne summer program, celebrating a vibrant part of our community through a great line up of performances and culinary experiences," said Lord Mayor Robert Doyle.

Held annually since 2010, the event honours the tradition of Bon Festival in Japan, or giving thanks to one's ancestors. The highlight of the festival is the traditional Bon Odori, a dance performed in a circle by participants wearing cotton kimono known as yukata.

Authentic Japanese food stalls along River Terrace will please even the most discerning palates, from taiyaki and takoyaki to okonomiyaki, bento and traditional sushi.

The festival will showcase cultural performances on the main stage and upper square, including taiko drumming, shamisen, break dancing and martial arts. Family-friendly games and activities such as origami classes, along with some very colourful characters in Japanese Anime costume will charm crowds throughout the afternoon. Be sure not to miss the announcement of the winners of the raffle draw, with a grand prize of two Jetstar business class airfares to Tokyo.

For more information please see our website: http://jcci-jsm.org.au/fest/.
Join in and write your own page! It's easy to do. How? Simply click here to return to The Free Things Message Board.