Old Treasury Building
The Old Treasury Building is widely regarded as one of the finest 19th century buildings in Australia....
..... And it was designed by a 19 year old!!
This should be on your list as one of the top Melbourne tourist attractions to visit........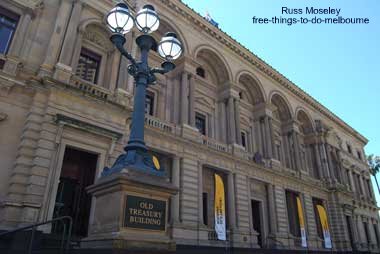 ........As well as being a gorgeous building, it contains the original gold vaults where the gold bullion was stored during the gold rush in the 1860's.
The vaults are now home to a very good multimedia exhibition about the gold.
There's a lot of quality information about Melbourne for you to see.........
.......You can walk through rooms containing an exhibition about the caretaker and his family of 8 children who lived here between 1916 and 1928.......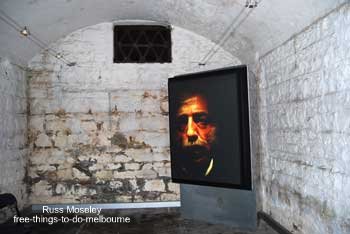 .....you can read stories relating to indigenous Victorians.......
.......learn about Melbourne criminals.......
....... find out about the Women's suffragette movement.......
........and have a look at some rare and historic documents highlighting key moments from Victoria's history.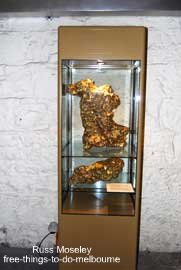 You'll come across a copy of the largest gold nugget ever found in the world - 'The Welcome Stranger'.....
.....It was found just 25 centimetres beneath the ground in Victoria, not too far from Bendigo.

There's also a copy of 'The Welcome Nugget', found in Ballarat, Victoria.....
.....It was the largest nugget until 'The Welcome Stranger' was found.





---


They also have temporary exhibitions here. The one I saw was about the West Gate Bridge collapse which occurred 40 years ago......
.....I hadn't known anything about this until I went to the Police Museum recently........
.........I was amazed that something like this happened in a place like Melbourne.



---

The photo below shows the Old Treasury was one of the earliest buildings in Melbourne. (You'll get a clearer picture of it at the exhibition!!).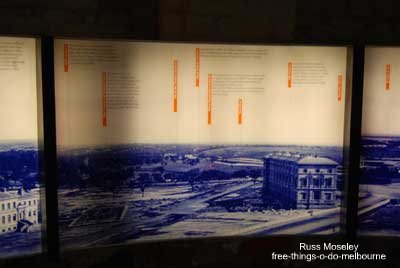 Don't call the Old Treasury a museum by the way!....
..... As I was leaving I said to the lady behind the counter that it was a really good museum. "It is not a museum" she replied huffily....
...Oops!.... Make your own mind up!
---


The Old Treasury is located at 20 Spring Street, just down from Parliament House.
View Old Treasury Building in a larger map
It's normally open Sun-Fri 10am-4pm, closed Saturdays but times do seem to vary so check out the website beforehand at Old Treasury.
---
Return from Old Treasury Building to Rainy Day Things
Return from Old Treasury to Free-Things-To-Do-Melbourne Homepage