Parliament House
"Is that a gun you have in your bag"? asked the security lady at Parliament House.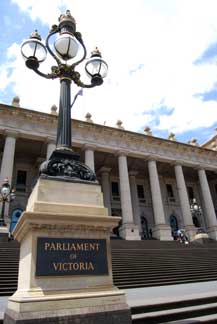 "No" I replied, looking a bit puzzled.......
........My backpack had just gone through her screening machine but it only contained my sandwiches and a cap.......
.......It turned out that my DSLR camera which was in the container behind with my wallet somehow looked like a gun to her.
Now this was in the days well before the current IS problem but at least it shows they're serious about their security.
Free Tour
We started the free tour in the Queens Hall looking at paintings of former premiers and a statue of Queen Victoria (which apparently Victoria didn't like so she banished it overseas!).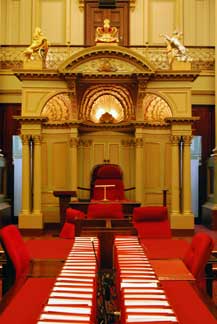 We were taken into both the Lower and Upper House chambers getting the chance to sit in the Premier's and Speaker's chairs in the Lower House.......
........go with a friend/partner so you can get photos of this!
We had a look in the Library and then back out to the Vestibule. Total tour time was 45 minutes.
If you see the original drawings for Parliament you'll notice that there's a huge dome in the front centre of the building........
.......Take a look from the outside though and you'll see - no dome!!.....
.......Turned out that the Government ran out of money during the construction so the view up from the vestibule is of a rather plain ceiling instead of a magnificent dome.
There's a load of real gold leaf internally though, painted onto the decorative sections such as the top of the columns and cornices......
.......No wonder they ran out of money - some things don't change!
---

Parliament House (or Parliament of Victoria) is located in Spring Street opposite the Windsor Hotel.
Tours are available on days when the Parliament is not sitting (which is actually the majority of the year)! Tours take place at 9.30am, 10.30am, 11.30am, 1.30pm, 2.30pm and 3.45pm.
No need to book, just join the queue if there is one or walk in if there isn't.
On the days when Parliament is sitting, you're welcome to watch Parliament in action.


---
Return from Parliament House to Rainy Day Things
Return from Parliament House to Free-Things-To-Do-Melbourne Homepage