Pioneer Womens Memorial Garden
The Pioneer Womens Memorial Garden is a small memorial garden built in 1935 in tribute to the early European pioneer women here in Melbourne.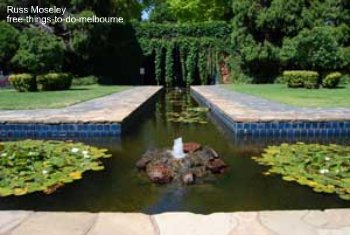 It's a lovely peaceful little garden but it's quite hard to find even when you're looking out for it like I was!
My parents came across it while taking my daughter out one day when they were on holiday over here on their Australia visit.
My daughter apparently spent ages just watching the dragonflies landing on the lillies in the water.
My parents said it was a nice place to visit if you wanted to relax and I have to agree.

Whether that is due to the symmetrical water feature or just due to its secluded location behind walls and hedges, I'm not sure......
......Go along and decide the reason for yourself.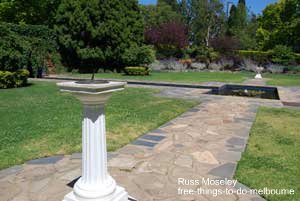 Don't miss the small bronze statue of a woman part hidden behind trailing plants in the blue tiled grotto at the end of the water feature.
I've read that there's a list of thousands of names inscribed by people who gave donations to build the Garden buried under the sundial.
There aren't any seats here which is a bit odd, so bring a rug and chill out eating a picnic here......I was there about 15 minutes and wasn't disturbed by anyone at all.
It's located in the Kings Domain. You'll see signposts pointing you in the right direction but print out the map below anyway (after clicking on the blue writing underneath the map first to make it bigger) to make sure you don't get lost.
View Pioneer Women's Memorial Garden in a larger map
---
Return from Pioneer Womens Memorial Garden to Parks and Gardens
Return from Pioneer Womens Garden to Free-Things-To-Do-Melbourne Homepage