Plant Craft Cottage
The Plant Craft Cottage is a gorgeous little heritage listed cottage tucked away in the Royal Botanic Gardens where members of the cottage group make........ wait for it...........crafts from plants! Surprised you there huh?!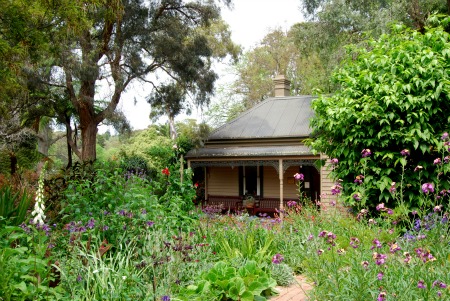 They do basketry, dyes, fabrics, papermaking, plant cards from dried flowers, pot pourri and there's also a group who look after the delightful cottage gardens.
These gardens are a photographers dream with the vibrantly coloured flowers fronting the quaint olde worlde cottage – at least it was when I visited last autumn anyway.
You'll find the cottage open from Monday to Friday between 9am and 3pm (except public holidays) and on the third Sunday of every month...............
...........It's near the north-west side of the Royal Botanic Gardens close to Gate H.
Inside the cottage you can read about it's history and have a look at things the members have made............

.............Just be aware though that they sell some lovely stuff and I even bought a present there for my daughter so I imagine most of you'll also find it hard to resist as I rarely buy anything anywhere!
If you turn up on one of the Demonstration Days you'll be able to watch free craft demonstrations.
According to the ladies I spoke to at the cottage, the cottage is not very well known among Melburnians and they get a lot more foreign visitors than locals.............
..............That's a real shame as the cottage has an interesting history and is actually among the oldest properties in Melbourne.
It was built as a gardeners home in 1850/51 and was used by Baron Ferdinand von Mueller between 1853 and 1857 when he was Victoria's first Government botanist.............
.............He then became Director of the Gardens so moved into the Director's residence which was a much more prestigious building.
The cottage came under threat of demolition in the 1970's but was saved and became known as the Plant Craft Cottage in 1981.
Look up Craft Cottage website to find when the free Demonstration Days are. They do workshops too but charge for these. All charges do go towards maintaining the property though so it's all in a good cause.
If you'd like to splurge and become a Member of the cottage so you can join in the craft groups it's only $35 annually (or $40 for a family membership) which hopefully won't break the bank either.
Check out it's location in the map below:

View Plant Craft Cottage in a larger map
---
Return from Plant Craft Cottage to Sunny Day Things