Rose Street Artists Market
Rose Street Artists Market is a lovely little market to visit, nicely presented, well laid out and very friendly.........
I think it's one of the nicest markets in Melbourne.
There's an indoor bit too which is handy in case of rain or if it gets too sunny..........
........my British nature here - I'm not quite sure why everyone in Melbourne races to the beach when it gets over 30 degrees - I find shade!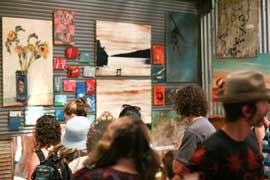 It's not a tourist joint so the stallholders actually have some very unique and interesting things to look at.
I'll definitely be coming back here for my wife's birthday present. (Hope she doesn't find this page!).
There's a small cafe in the grounds too which is handy as the market's a little off the beaten track.
I'm told that established artists parade their wares on Saturdays and that emerging artists are here on Sundays........
........I've only been on a Sunday but the stalls all looked very professional to me.
If you're lucky you'll also catch some live entertainment.........
........This is usually held on Sunday afternoons between 2pm and 4pm although times do vary according to the organisers.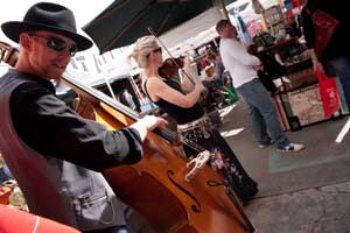 The market is at 60 Rose Street, Fitzroy and is open 11am - 5pm every Saturday and Sunday.
It's actually not too far to walk from stops 5 or 6 on the tourist shuttle bus route........
........These bus stops are at interesting places to visit anyway - Carlton Gardens and Lygon Street - take a walk round these areas too and really get to know Melbourne.
Check out where it is on the map below.
View Rose Street Artists Market in a larger map
---
Return from Rose Street Artists Market to Melbourne Markets
Return from Rose Street Market to Free-Things-To-Do-Melbourne Homepage