Shrine of Remembrance
The Shrine of Remembrance should be on your list as one of the top ten places to visit in Melbourne.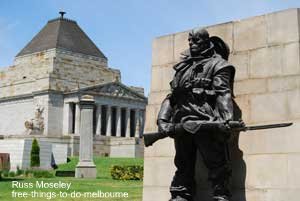 It was built in 1934, inspired by one of the Seven Wonders of the Ancient World - the King Mausolus tomb at Halicarnassus, then a Greek city, now in Turkey.
(According to Wikipedia this is where we get the word mausoleum from!).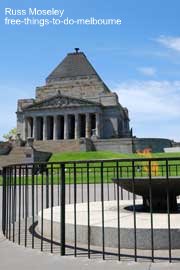 There's a lot for you to see at the Shrine.....
........two galleries of regularly changing exhibitions in the visitor centre....
........a gallery of medals.....
........The Crypt which contains regimental items......
........and The Sanctuary which contains The Stone of Remembrance.
The Stone of Remembrance is sunk into the floor and reads 'Greater Love Hath No Man'.
The Shrine was built in such a way that every year at 11am on 11th November - (the date and time which marks the end of World War 1) - the sun shines a light on the word 'Love' - (when it's sunny, that is!)
This naturally occuring spectacle has been reproduced with an artificial light which you can see re-enacted every half hour in what's called the Ray of Light Ceremony......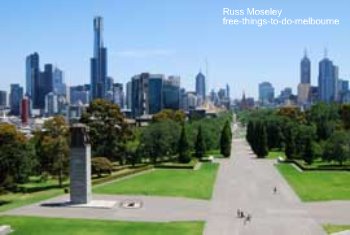 ......And don't forget you can go up to the balcony for a fabulous 360 degree view over Melbourne.
Free guided tours leave the Visitors centre at 11am and 2pm daily.....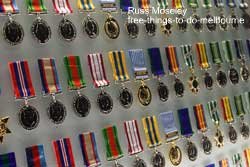 ....... I haven't been on one of these yet but I'm sure they'd be really good value!!
The Shrine's located on St Kilda Road/Birdwood Avenue, South Yarra, close to the main entrance of the Royal Botanic Gardens.
It's a 10-15 minute walk from Flinders Street railway station.
Take a look at the map below to find the Shrine - click on the blue writing beneath the map for a better look.
View Shrine of Remembrance in a larger map
I made my way up to the Shrine recently from Federation Square going through Alexandra Gardens, Queen Victoria Gardens, the Pioneer Women's Memorial Garden, The Grotto and the Royal Botanic Gardens......
......It was a great trip taking about 3 hours in total and there's loads to see if you like plants, ponds, statues etc.....
....Why don't you do the same?
---
Return from Shrine of Remembrance to Rainy Day Things
Return to Free-Things-To-Do-Melbourne Homepage