St KIlda Adventure Playground
I found my new favourite place this weekend - the St Kilda Adventure Playground. It's wonderful – make sure you pay it a visit.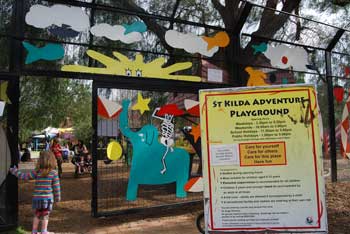 I actually found out about it from someone telling me about it through my website which is great........
..........remember to tell me any great places YOU know about which I haven't mentioned on the website yet so that others can benefit too.
It's a real hippyish looking sort of place, very quirky and old fashioned........
.........and there's even a kitchen area where you can make yourself tea and coffee although there is a donation box available for this.........
.........There are also tables and chairs set up in a sheltered area to have your picnics.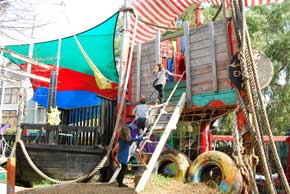 You'll find staff on site at all times too which is great as it keeps the playground free from any vandalism and other problems.
There are too many childrens' playthings here to mention.......
........I didn't make a list when I was there but the things my daughter played on were the circular slide halfpipe thingummyjig, a pirate ship (or was it an ordinary sailing ship?!).........
........a tunnel to run through, a trampoline, a sandpit, a very large rocking horse, various climbing things, a locked shed painted like a chickens coop and a wigwam.........
.........There's also a treehouse for the older kids to play in and some type of airplane. I'll probably be able to tell you about a few more things next week as I'm under strict orders to go back again next weekend!
Another good thing about the playground is that there's a lot of shelter from the sun which is something I've found to be pretty rare here in Australia.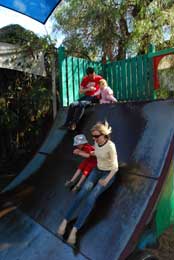 This playground apparently started life in 1981 and was for disadvantaged children in the area who lived in highrises but it's now open to everyone...........

.........I wish there were more playgrounds like this one.
You'll find the St Kilda Adventure Playground off Neptune Street in St Kilda, just look for the signpost. It's only a short walk from Luna Park.......
........Normal opening times are 3.30pm – 5.30pm Mon – Fri and 11am – 5pm Sat and Sundays but it does close sometimes and apparently it's best to call 9209 6348 before you go to make sure it's open. It's always closed between 24th December and 4th January too.
You can also arrange birthday parties here but this is subject to a charge.
Although the council say the playground has been designed for kids between the ages of 5 and 12, there seems to be plenty of things younger kids can have a go on.
You'll find free two hour parking spots available in nearby streets.
Check out where it is on the map below:
View St Kilda Adventure Playground in a larger map
---