St Kilda Tour
Heritage Victoria have created a St Kilda tour - a wonderful self-guided walk through the streets of St Kilda.
They've made a podcast you can download along with a map of a short route which predominantly explains about residential building styles.......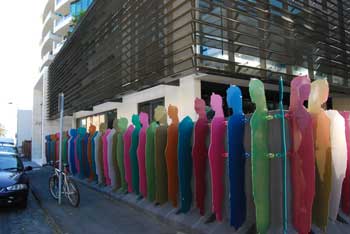 ........but it's done in a way that throws light on the rise, fall and rise again of St Kilda.
Some of the history is fascinating.......
........For example it simply explains why most of the enormous mansion buildings came to be either demolished or sub-divided and flats built on their large gardens. It turns out that industrialisation was the main culprit.......
........These houses needed armies of housekeepers who worked very long hours for very poor pay. When the factories came they all left as they could earn more money for much shorter hours in the factories. At a stroke these mansions became redundant.
The walk takes about an hour and probably doesn't cover much more than a kilometre. The route is all fairly flat too.
Either download the talks into your MP3 player (the best method) or listen to them on your computer first (like I did). Print off a map and off you go.
The talks explain how some buildings are not what they seem for a variety of reasons. There's some great architecture to look at too, brought to life by the stories about the properties.
There's loads of building styles to look at.......
........from Californian Bungalows, Art Deco style, Arts and Crafts style, Victorian, Edwardian, Spanish Mission, Mediterranean style, International style......
.......and everything in between as often buildings are a hotchpotch of different styles.
You'll find the location among all the shady trees is great too if you do the walk on a hot day like I did.
Click on St Kilda Heritage Victoria to get the podcast and map......
.......In fact you'll probably want to check this website out a bit further as it's got some great stories about how gold transformed Melbourne and about shipwrecks off the Victorian coast.
---
Return from St Kilda Tour to Melbourne Walks
Return from St Kilda Tour to Free-Things-To-Do-Melbourne Homepage