The Travellers
The Travellers is an artwork on a bridge over the Yarra River behind Flinders Street railway station, leading to Southbank.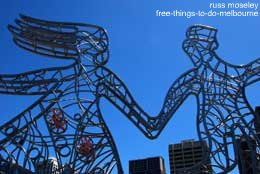 I'd seen it lots of times and walked alongside it quite a few times but I only recently found out that it's a moving artwork!..........
.........The figures glide along the bridge three times a day.........
.........The moving figures apparently represent all the immigrants (like me!) coming to Melbourne while the static figure on the bank represents the aboriginals who were already here.......
.........I must say there are a few strangely shaped people in this artwork - I'm the boy in the photo holding hands with the girl so which strangely shaped figure are you?!!
The artwork was inspired by the bridge being the original railway line route for many immigrants arriving into the city from Port Melbourne where they'd landed by ship.
The bridge (called the Sandridge Bridge) is now only a pedestrian and cycle route.
Take a walk over.......
....... Glass panels at the base of the figures have information to read about Australian indigenous people and lists the countries Melbourne immigrants have come from.
Check out the map below to find where it is but it's impossible to miss!.........
.........just walk onto the bridge from Flinders Street railway station, look down the river to your right and you can't miss it. Take the steps down to the river from the bridge and it's a little stroll along the riverbank.
View The Travellers in a larger map
---
Return to Free-Things-To-Do-Melbourne Homepage