Victoria Police Museum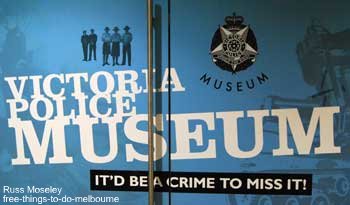 I was expecting the Victoria Police Museum to be in an old dark dungeon-type location and was rather disappointed to find it's in a bright modern office building.
It's still one of the more interesting places to visit in Melbourne though with tales of 'colourful criminals and the gallant work of police in risky situations' - quote taken from the advertising for the museum!
You can see the armour of Kelly Gang members Dan Kelly and Steve Hart, who were captured by the police in 1880 during the Glenrowan siege where Ned Kelly was caught......
.......What's really interesting about this exhibit (apart from it's history of course) is that you can lift a piece metal used to make the armour......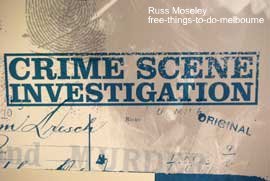 .......It's so heavy!! It may have stopped bullets but the gang would hardly have been able to move - no wonder they were caught!
There was also a display about the West Gate Bridge disaster 40 years ago. Being a relatively new immigrant I hadn't heard of this disaster .........
........This was a terrible incident - the bridge collapsed as it was nearing completion and 35 workers were killed.
There's also information about a car bomb that exploded outside a Melbourne police station in 1986 killing a policewoman and injuring 22 other people.
There's loads more too. Make sure you check it out.
It's located in the World Trade Centre behind the police station at 637 Flinders Street.....
View Victoria Police Museum in a larger map
.......Take the escalator up to the first floor and the museum's ahead slightly to the left. It's open 10am-4pm Mon-Sat, closed Sundays and public holidays.
---
Return from Victoria Police Museum to Melbourne Museums
Return to Free-Things-To-Do-Melbourne Homepage