333 Collins Street
333 Collins Street is a must visit site if you like architecture.
Along with ANZ's Gothic Bank at 380 Collins Street it just radiates old money.

Built as a banking hall by the Commercial Bank of Australia (now Westpac), it's now an entrance foyer of a large modern block.

Built in 1891 of Baroque Revival style, (or so I've read!), the building was apparently almost demolished in the 1970's.........

........impossible to believe when you see it.........
........I wonder how many other gorgeous buildings in Melbourne were destroyed to make way for 'progress'?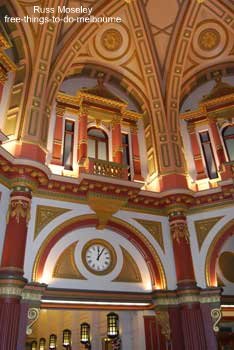 The outside of the building looks very Art Deco style to me so it's quite a surprise when you first walk inside - unless you've seen this photo above of course!!
I couldn't begin to describe it other than to say it's something I'd expect to see in Prague in the Czech Republic, not a generally rather modern city like Melbourne. It just needs little clockwork uniformed people appearing on the balconies every hour and you could almost be in Europe!
Check out the corridors with the huge lanterns too.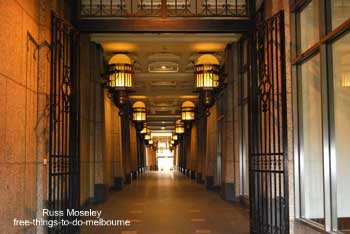 I'm not sure of the opening hours here - assume 8am-6pm weekdays and you'll probably not go too far wrong!
Just to clarify, you'll find it in Collins Street, Melbourne, at No 333!!
Find where it is on the map below.
View 333 Collins Street, Melbourne in a larger map
As well as the gorgeous inside of the ANZ Bank located just up the road, have a look in the pretty Royal Arcade (and watch sweets being handmade made in the window of Suga), and have a look at the Shot Tower in Melbourne Central - I love the contrast between this old building and the modern dome surrounding it.
---
Return to Free-Things-To-Do-Melbourne Homepage