Missions to Seamen
The Missions to Seamen is another building I visited during a Melbourne Open House weekend.
I was given a tour by the chaplain......
.......Its highly unlikely that you'll get this treatment if you just turn up at any other time........
........so the best time to visit would be at next year's Open House weekend in July as the tour was really interesting.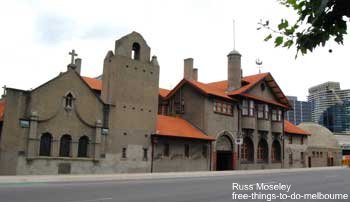 Built in 1917 by the Anglican Church, the Mission to Seamen (now officially changed to Mission to Seafarers for PC reasons) offers services for seafarers of both sexes and all nationalities.
The main part of the building was built in what's known as a Spanish Mission revival style.......
......The central section is apparently an English arts and craft style and the old gymnasium is a very unique domed structure......
.......The chaplain didn't know why the gymnasium had been built like this (you can see it on the right hand side of the top photo).
I hope you'll love the chapel as much as I did........
........It's really quaint, having a lot of maritime imagery such as a pulpit in the shape of a ship's stern........
........and with stained glass windows with pictures of sea scenes.......
.......Unfortunately I can't find the photos I took of it. I'll add them if I come across them sometime.
The stories the chaplain told about the history of this building and about the original benefactors is well worth waiting until July for.
You'll find the Mission at 717 Flinders Street, Melbourne close to the Yarra river and the Docklands.
View Missions to Seamen in a larger map


Why not also visit the Victoria Police Museum and Polly Woodside while you're here - they're within about 200 metres.......
.......It'll make a good day out.
---
Return to Free-Things-To-Do-Melbourne Homepage