St Pauls Cathedral
St Pauls Cathedral is certainly one of the easiest buildings to find in Melbourne as it's located right by Federation Square and Flinders Street railway station.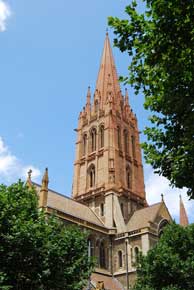 And it's well worth popping inside for a look........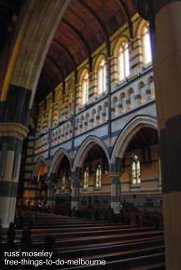 .......Its much more interesting than the outside!
There's some lovely carved cedar woodwork, decorative stonework, lots of attractive arches.......
........a superb tiled floor and a vaulted wooden ceiling as well as the statues, gold ornamentation, stained glass windows etc.
I won't bore you with all the facts here as you can find them yourself at St Pauls Cathedral website........
.......It is however apparently on the site where the first public christian services were held in Melbourne in 1836 (although the first chapel was actually built elsewhere).
You may notice that the stonework of the spires is a different colour to the rest of the building.......
........I always thought this was a bit odd but I recently found out it's because the spires were only built in 1926 whereas the rest of the cathedral dates from 1891.......
.........You'd still think they'd have tried to match the stonework though.
The address of this building is corner Swanston and Flinders Street!
Opening times are 8am-6pm Monday-Friday, 9am-4pm Saturday and 7.30am-7pm Sundays.
Click on the blue writing below the map for a better look at it's location.
View St Pauls Cathedral in a larger map
There's loads of other free things to see close by here too......
........In Federation Square they have the Australian Centre for the Moving Image which has lots of interactive multi-media games and a Mediatheque where you can choose from thousands of hours of films and TV programs,..........
........there's the Ian Potter Centre: NGV Australia in Fed Square which has Melbourne's Australian art, Kirra Galleries which has interesting glass art and just opposite Federation Square you'll find Hosier Lane with it's famous graffiti.

---
Return from St Pauls to Rainy Day Things
Return from St Pauls to Free-Things-To-Do-Melbourne Homepage