Tai Chi
Join a Tai Chi class for free........
.......Tai Chi is a Chinese exercise that uses slow, smooth body movements to relax both body and mind.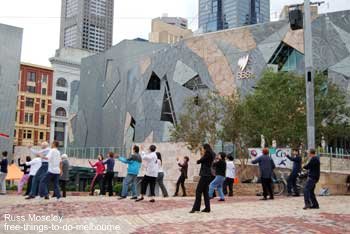 I've done it a couple of times a long time ago now.....
........It's an interesting experience and I used to know some people who did it fairly regularly and they found it very relaxing.
The only downside with this class is a lot of people may gawk at you as its held in Federation Square!
When I travelled in China years ago it was common to see early morning classes like this in the parks.....
....it's not too common a sight here in Melbourne though.
Go and watch if you don't like the thought of being stared at. I found it quite relaxing!
Classes are every Tuesday morning 7.30am till 8.30am.........
.......It's an ideal way to start your day if you're one of those normally stressed, rushing city commuters!
I believe that if it's raining they go undercover into The Atrium to do it so it's a regular weekly event.
View Tai Chi in a larger map
While you're in the area why not check out some of the other free things to do around here..........

..........Go into the Australian Centre for the Moving Image where you can play lots of different types of computer games and watch free films.........
..........see Australian art at The Ian Potter Centre: NGV Australia or head off for a nice walk along the Yarra River checking out the aborigine artwork at Birrarung Marr.
---
Return from to Sunny Day Things
Return to Free-Things-To-Do-Melbourne Homepage