Yarra River Sports Walk
Come along on this interesting Yarra River Sports Walk..........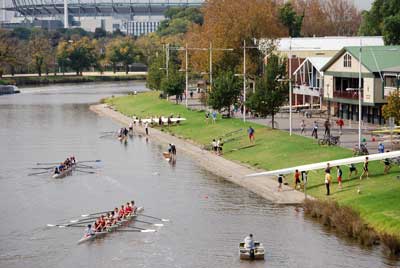 ...........You'll probably know that Melbourne has a fantastic reputation for holding quality sporting events........
...........so why not take a 90 minute stroll and learn about Melbourne's sporting credentials on this highly scenic route?
It starts on the opposite side of the River Yarra to Federation Square and returns to Federation Square.
You'll begin at the Rowing Boatsheds where rowing has been a way of life for 150 years..........
.........It's especially interesting to walk by this area early in the morning before 10am or after 3pm when the rowers are in action.
You'll then pass Riverslide Skatepark..........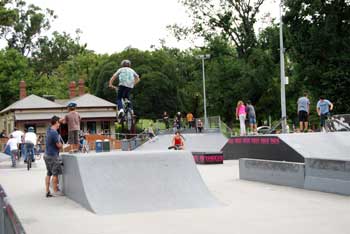 .........I always stop here for a while watching the skateboarders and BMX cyclists doing their jumps. More often than not there'll be some really good kids to watch.

Walking along the river a bit further you'll see the famous Tan Track on the other side of the road.........
..........It's THE place to go running in Melbourne if you're into that type of thing. See Tan Track.
You'll then cross over the river and you'll be on the site of the 1956 Olympic Games - Australia's first Olympic venue.
Here you'll find the Westpac Centre, originally the 1956 Olympic Games Swimming Pool venue but now home to Collingwood Football Club (Australian Rules Football by the way!).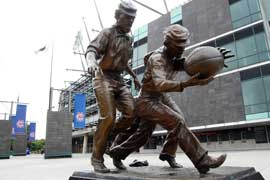 Then there's Melbourne Park which is home to the Rod Laver Arena..........
..........If you're reading this page you'll probably have heard of Rod Laver but if not, he was a very good Australian tennis player and won a few major titles...........
...........The Australian Tennis Open is played here every year.
Then there's the Olympic Park stadium which was the warm up track for the 1956 Olympic Games.
The Hisense arena was built in 2000 and hosts cycling and a variety of other events. This is a state-of-the-art facility with a fully retractable roof.
AAMI Park is the newest venue, built in May 2010. This is a very attractive building (in my eyes anyway!)...........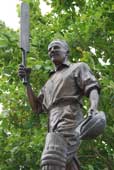 .........It's home to Melbourne Victory and Melbourne Hearts soccer clubs, Melbourne Storm rugby league club and Melbourne Rebels Super Rugby club.
Lastly is the famous Melbourne Cricket Ground, known as the 'G'.
You'll come across quite a few sporting sculptures on this part of the Yarra River Sports Walk by the way.
You can get tours around many of these stadiums but these are NOT free venues...........so.........why not just head back to Federation Square and have a look at
a few of the other things I've mentioned in this website that ARE free to do?!
To download the brochure of this walk click on Yarra River Sports Walk.
---
Return from Yarra River Sports Walk to Melbourne Walks
Return from Yarra River SportsWalk to Free Things To Do Melbourne Homepage