48 Hour Family Tour
Day 2
It's Day 2 of the 48 Hour Family Tour around Melbourne and we're starting at Federation Square today........
.........First though, as there's a bit of walking to do around town, pop into the Melbourne Visitors Centre here in Federation Square and pick up a map of Melbourne. (The Visitor Centre opens at 9am).
Then find Kids Corner - it opens at 10am. It's part of the Ian Potter Centre: National Gallery of Victoria (NGV) Australia on the far side of Fed Square by Flinders Street.........
.........It's for kids up to about 8. There's lots to do here including storytime sessions between 10.30am and noon on Sundays. Note it's closed here Mondays though so plan accordingly.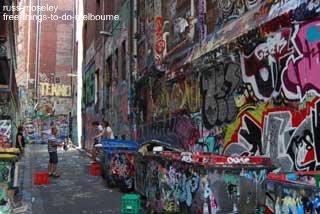 Next, it's a visit across the road to a couple of Melbourne's famous graffitti covered streets - you'll find Hosier Lane almost opposite Kids Corner on the other side of Flinders Street. Rutledge Lane is also down this street.
Then it's a short walk up to the State Library of Victoria. Turn left at the top of Hosier Lane and down to the main street which is Swanston Street, turn right and the Library is at 328 Swanston Street, about a 5 minute walk on the right hand side, opposite Melbourne Central.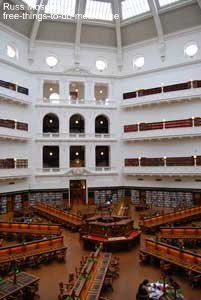 You'll pass Melbourne Town Hall on the way. The Beatles apparently waved to crowds from the Town Hall balcony which you'll be walking under.
There's always loads for the kids to do at the Library - just ask at the information counter what's going on that day.........
.........I'd especially recommend you also take a look at the gorgeous La Trobe reading room too - just follow the signs.
When you've finished here, it's about a 10 minute walk to the Royal Arcade.........
..........It's on Bourke Street more-or-less opposite Myers.......
.........but go through Melbourne Central on your way and have a look at the contrast between the old Shot Tower and the huge dome around it. I love it!.......
.........There's a little museum inside the Shot Tower but it's not really for young kids so just keep going following your map to Royal Arcade........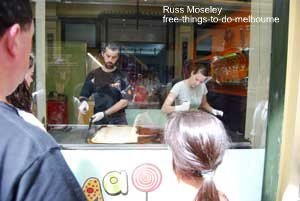 Here you'll find Suga! with lollipops and other delicious sweets being handmade in front of the window.......
.........The display happens about 5 times a day so ask when it starts if nothing is going on when you arrive.........
.........It's a lovely arcade to spend time window shopping or having a cup of coffee while you wait.
Have a look at this morning's route on the map below. Just click on the blue link under the map to make it larger and then click the +, - and arrow buttons at the top left of the map to see what you need. You can also click on the blue markers to see what the attractions are.
View Day 2 of the 48 Hour Family Tour in a larger map
I've got two more things for you to do this afternoon. First we'll jump on the free tram for a look around Docklands so head down to Flinders Street and catch the burgundy coloured City Circle tram heading away from Federation Square.
Have a look at the map below showing you where to go.(Same user instructions as for the map above)!
View Day 2 of the 48 Hour Family Tour in Melbourne in a larger map
There's lots to do at Docklands. You can wander around the shopping area, visit a collectors market on Sundays.......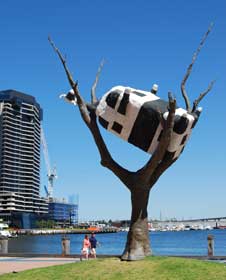 .........watch the big wheel (the Southern Star Observation Wheel) being mended(!), see statues of famous people at Waterfront City........
.........look at the great modern architecture, discover art exhibits..........
.........(you can download a map from my Docklands Art page showing 36 outdoor art exhibits around Docklands but this walk is probably in the region of two hours and best left for another day).......
.....Oh, there's a few boats to see too!
If you're in need a of a meal here between Mondays and Thursdays there's an offer where kids can eat free at a number of Docklands restaurants (subject to conditions of course!) - see Kids Eat Free.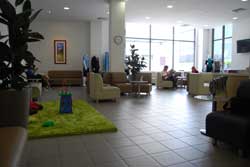 Or, if it's just a refreshment you're after, find the Tourism Lounge - it's where the free tour bus stops on Pearl River Road by Harbourtown Shopping Centre.......
.........You can get a free cup of tea or coffee and a newspaper read here before about 3pm.
Ok, getting late? The last recommendation is two tram rides away in St Kilda. Penguins!!........
.......See my page on St Kilda Penguins...............
.........Unfortunately you'll need to pay normal fare on the St Kilda tram but if you do the trip on a Sunday you'll only need to pay $3.20 per adult instead of the normal $10.20 off-peak daily charge. This $3.20 gives you all day travel on a Sunday so it's a real bargain.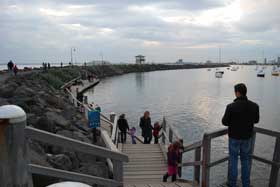 You could probably do this penguin sightseeing trip within 2 hours though so a $3.80 adult fare Mon-Sat should be ok as long as you're back on board the return tram within 2 hours of paying your fare.
The two hour fare for children under 16 is $2.40 and kids under 4 travel free (the tram/train company say it's under 3's on their website but I've asked at ticket places and been told it's really age 4!!).
To catch the St Kilda tram, get on the free tram (or bus) back to Flinders Street at the junction with Spencer Street and at the tram stop opposite the Grand Hotel (on Spencer Street) catch route 96 to St Kilda.........
.........It's a 20 minute journey on this tram and you need to get off at the bottom of Fitzroy Street (at Jacka Boulevard). The pier is only a couple of minutes away from here - just head towards the sea! You then need to walk along to the end of the pier, behind the building on it. This is the breakwater and home of the penguins.
See the map below to see where you'll be going. Follow the instructions to use the map as I explained by the first Google map above.
View Day 2 of the 48 Hour Family Tour of Melbourne in a larger map
You should get here at least half an hour before dusk if you want to take photos - and you will want to take photos!!
Well, thats it.
Except......!
........Why not......
Send some PHOTOS and a STORY

of your trip

to my YOUR Stories page.

Yes, People Will LOVE To Read YOUR stories and see YOUR photos!!
Just click HERE to send YOUR Photos and Stories!!
---
Return from 48 Hour Family Tour Day 2 to 48 Hour Family Tour Day 1
Return from 48 Hour Family Tour Day 2 to Free-Things-To-Do-Melbourne Homepage