ANZ Bank Museum
You'll find the ANZ Bank Museum entrance a few steps down from street level at the centre of the 380 Collins Street ANZ banking building........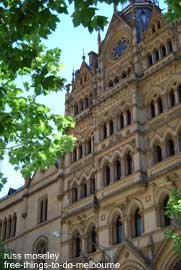 ........It's through the glass doors and down into the basement.
It's not overly large but it does contain a decent exhibition about Australia's banking heritage.........
.........There's displays of items like old office machinery, uniforms, coins, moneyboxes, gold-mining items, old photos, manuscripts and other items from yesteryear...........
..........And don't forget to have a look in the magnificent Banking Hall and 'The Cathedral' to the rear right hand side of the Banking Hall.....
......It's among the best architecture in Melbourne in my opinion.
These upper parts are still used as a bank but they have some self-guided notices about the history of the building so they're quite happy for you to walk in and take photos (at least I think so - there's nothing to say don't take photos!)
Have a look at ANZ Bank to see some of what you'll find there.
You'll actually find the museum is a massive contrast to the olde-world bank. It took me by surprise.....
......I was expecting old vault-like structures that you get at the Old Treasury Building but it's actually contemporary modern style. Go see for yourself!
It's open 10am - 3pm weekdays.
Check out it's location on the map below.
View ANZ Banking Museum in a larger map
PS:  Must get some more photos for this page!!
---
Return from ANZ Bank Museum to Melbourne Museums
Return from ANZ Museum to Free-Things-To-Do-Melbourne Homepage