48 Hour Tourist Route
Day 2
It's Day 2 of the 48 Hour Tourist Route and we're starting at Federation Square at 10am, this time to see the Australian art belonging to the National Gallery of Victoria.........
.........It's called the Ian Potter Centre: NGV Australia. It's towards the far side of Fed Square fronting Flinders Street.........
.........You can get free tours here although tour times do vary and you may need to come back some other time for a tour. If so, just have a look round yourself.
Next it's time for a tour of two of Melbourne's famous Graffitti covered streets.........
........You'll find Hosier Lane almost opposite the Ian Potter Centre on the other side of Flinders Street.........
.........so wander up here and around Rutledge Lane and you'll see lots of graffitti.......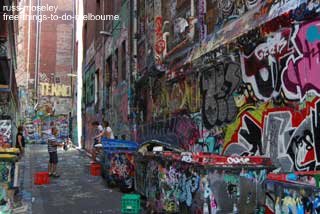 .......don't worry - it's a very safe place and the graffitists seemed very upmarket types when I saw them in action!
Next, we'll make our way to the Royal Arcade........
........ At the top of Hosier Lane turn left, then right along Swanston Street, past the Melbourne Town Hall and under the balcony where the Beatles waved to crowds a few years ago now.........
........At the next road junction cross over Swanston Street and along Little Collins Street and you'll find the Royal Arcade on your right.........
..........It's one of Melbourne's lovliest arcades and as a bonus you can watch lollipops and other confectionery being handmade through the shop window of Suga...........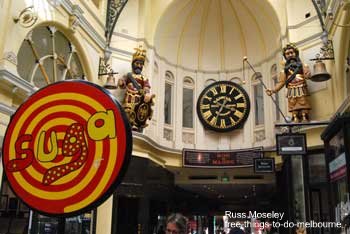 ...........If nothing's going on when you arrive, just ask when the next demonstration is and wander around some of the other quaint shops in the arcade while you wait........
........or go for a cup of hot chocolate in one of the famous chocolate shops here - that's not free though!!
There's another nice arcade opposite the entrance where you came into Royal Arcade called Block Arcade........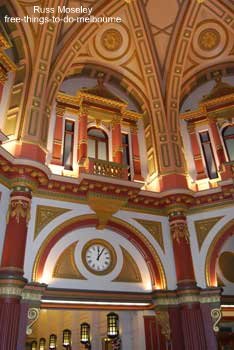 ..........Wander through this to Collins Street, turn right and if it's a weekday then visit both 333 Collins Street and 380 Collins Street. They're both stunning buildings inside.........
..........They were built in the boomtimes pre-1900 when money obviously was not a concern.
If it's a weekend, don't worry, there's still plenty to see.........
.........Wander down to Flinders Street and jump on the free tourist tram heading back towards Federation Square.........
.........Take this around to the State Library of Victoria - an announcement on the tram tells you when you've arrived at the right stop or ask the driver to tell you when to get off.........
.........There's a fabulous room here called the La Trobe Reading room - don't miss it........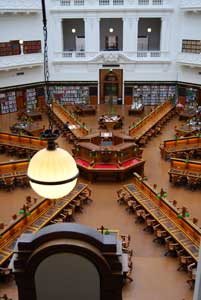 .......There's also an art gallery here called the Cowen Gallery and a museum type gallery running around the top of the La Trobe reading room to check out........
.........You can get free guided tours here too which I highly recommend - check at the information desk for the times.
The next place to visit is the Shot Tower, only a five minute walk away.......
........Go into the middle of Melbourne Central opposite the library and you can't miss it beneath the dome. I love the contrast of the old by the new.......
........There's a small museum at the back of the R M Williams shop in the Shot Tower giving a little history of Melbourne in the early days and about how lead shot was made.........
.........You need to go up the little escalator to get into the shop and just ask the staff for the museum.
Here's a map of the 48 Hour Tourist Route so far today. Click the blue writing beneath the map to see the route properly and use the buttons at the top left of the map to move your view around or to make the map bigger and smaller as necessary.
View Day 2 of the 48 Hour Tourist Route in a larger map
Time is probably getting on by now
so you have a choice
.........
........Either visit the new Docklands area - well worth seeing - or visit the penguins in St Kilda - also well worth seeing! (You won't see any penguins till shortly before dusk though so don't arrive too early)..........
.........If you're staying in Melbourne more than 48 hours then do one today and the other another day!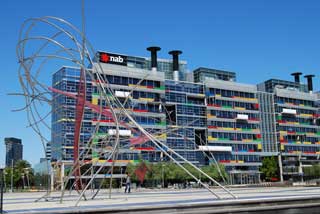 There's lots to do at Docklands - wandering around the shopping area, watching the Southern Star Observation Wheel being mended!.........
.........look at the great modern architecture, see statues of famous Australian showbiz people at Waterfront City, find art exhibits.......
..........You can download a map from my Docklands Art page showing a walk around 36 outdoor art exhibits but it takes in the region of two hours and again is best left for another day.......
.....Oh, there's a few boats to see too!
If you're in need a of a meal here there's an offer where kids can eat free at a number of Docklands restaurants between Mondays and Thursdays (subject to conditions of course!) - see Kids Eat Free Promotion. .........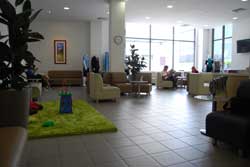 .........Or, if it's just a refreshment you're after, find where the free tour bus stops on Pearl River Road by Harbourtown Shopping Centre.........
.........You can get a free cup of tea or coffee here in the Tourist Lounge before about 3pm - it's a great place to relax for a bit.
To get to Docklands, head back to the road you got off the tram (La Trobe Street) and jump on one of the free trams heading in the same direction as before.
Check out the map below for this section of the 48 Hour Tourist Route.
View Docklands directions in a larger map
If you decide to see the penguins instead, then find the tram stop for the No 16 route heading south down Swanston Street to St Kilda.
Unfortunately you don't get free travel on the St Kilda tram.........
.........But if you do the trip on a Sunday you'll only need to pay $3.20 per adult instead of the normal $10.20 off-peak daily charge........
........This $3.20 gives you all day travel on a Sunday so it's a real bargain.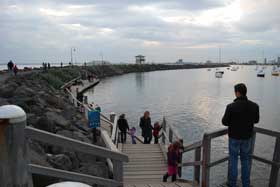 You could probably do this penguin sightseeing trip within 2 hours though so a $3.80 adult fare Mon-Sat should be ok as long as you're back on board the return tram within 2 hours of paying your fare.
The two hour fare for children under 16 is $2.40 and kids under 4 travel free (the tram/train company say it's under 3's on their website but I've asked at ticket places and been told it's really age 4 - best check yourselves though ok?!!).
It's about a 20 minute journey on this tram and you need to get off at the bottom of Fitzroy Street (at Jacka Boulevard, Stop No 135). The pier is only a couple of minutes away from here - just head towards the sea! You then need to walk along to the end of the pier, behind the building on it. This is the breakwater and home of the penguins.
Check out the map below for the last section of the 48 Hour Tourist Route.
View St Kilda directions in a larger map
You should get here at least half an hour before dusk if you want to take photos - and you will, they're gorgeous!!
Well, thats it.
Except......!
........Why not......
Send some PHOTOS and a STORY of your trip to my YOUR Stories page.

Yes, People Will LOVE To Read YOUR stories and see YOUR photos!!
Click Here to Share YOUR Story.
---
Return from 48 Hour Tourist Route Day 2 to 48 Hour Tourist Route Day 1
Return to Free-Things-To-Do-Melbourne Homepage